Alternate Endings: A New Look at How Americans Cope with Death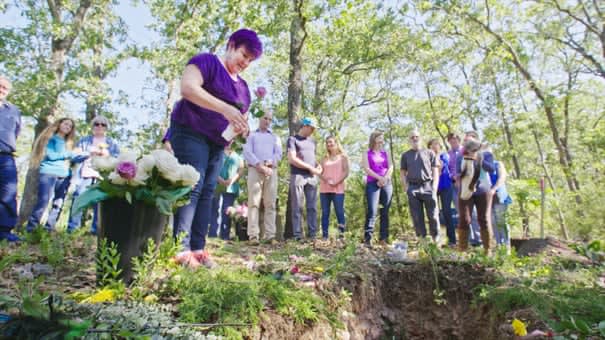 Alternate Endings: Six New Ways to Die in America is an HBO feature documentary that provides an in-depth look at the different ways Americans deal with death. Perri Peltz and Matthew O'Neill produced and directed the documentary, which consists of six touching stories about various individuals and families coming to terms with end of life in this modern age.
Some of the end of life options depicted in the documentary are not necessarily new, but they are an interesting departure from the "usual" way of doing things. For many Americans, the usual way is a traditional funeral service followed by burial in a cemetery. However, funerals are rapidly changing and old traditions are no longer the norm.






The opening scene of Alternate Endings clearly illustrates this fact, as the camera pans through the giant expo hall at the National Funeral Directors Association (NFDA) Convention. The NFDA is the world's largest funeral service association, and thousands of industry professionals attend the annual convention to get a look at the latest funeral and cremation products and services on display. From camouflage caskets to digital headstones to Irish dirt, the NFDA convention has it all, and it's an eye-opening look at the various trends and developments that are transforming the funeral industry.
The first vignette of the documentary features a burial at sea. But this isn't a typical ash scattering ceremony in a body of water – this eco-friendly final disposition involves mixing a loved one's cremated ashes with concrete to form a "reef ball," which is then lowered into the ocean as a living memorial that evolves over time into a natural marine habitat. It's a unique final resting place for a loved one, and "A very different way to honor somebody."
The next story highlights a living wake hosted by the Cuevas family for their terminally ill parent. It poignantly underscores how special it can be to say a final goodbye to your loved ones while they are still alive, and to let them know how much they are appreciated. The Cuevas children get to do exactly that and it's clear to see how much the ceremony means to everyone in the family.
The film then ventures into green burial, where Barbara Jean in Austin, TX takes a tour of the green burial ground where she is eventually laid to rest after succumbing to pancreatic cancer. As Barbara's family and friends wash her body and wrap it in a burial shroud, the audience gets a close-up view of the intensely intimate experience. There's also a celebration of life ceremony and a memorial tree planting, which are both creative and meaningful alternatives to a traditional funeral service.
The final scenes of Alternate Endings are especially moving. Dick Shannon guides viewers through the Death with Dignity process in California as he explains his choice to take end-of-life medication. Dick has terminal cancer, and says "Planning the final days of my life gives me a sense of participation and satisfaction." As he builds his own casket and says goodbye to his family and friends, viewers can't help but gain some kind of understanding as to why pre-planning a funeral is so important.
In the last story, the message of Alternate Endings really takes hold. The family of 5-year old Garrett Matthias hold a celebration of life event to honor their beloved son's passing. Like Dick Shannon, Garret also had terminal cancer and said he didn't want a funeral – he wanted something "fun" with bounce houses, Batman, and snow cones because "Death doesn't have to be scary." His family fulfilled his final wishes exactly according to his specifications, and it was a wonderful and happy celebration for everyone in the neighborhood.
Garret had the right idea – death should not be feared. Alternate Endings is a simple and moving documentary that will encourage conversations about end of life, and help transform the future of the funeral industry – it's definitely must-see TV.
Link to trailer:
Back to Knowledge Center
Find and compare funeral and
cremation providers.
Use zip code for more precise search results