The Most Popular Flowers for a Funeral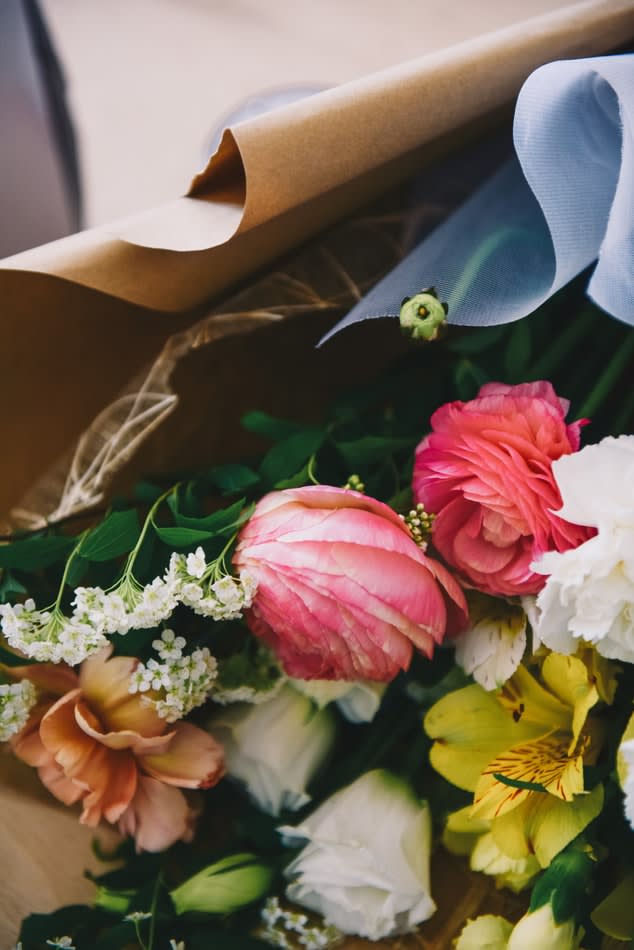 Sympathy flowers truly impart a special feeling of love and remembrance and continue to remain a popular feature in funeral services all over the world. In fact, funeral flowers have been traced all the way back to an archaeological site in Iraq from 60,000 B.C. Exploration of the Shanidar Cave revealed Neanderthal remains, and analysis of soil samples from one of the graves showed evidence of pollen in the burial site. This discovery inspired the idea that flowering plants were placed next to the corpse as part of the burial, and this ritual has continued through the years.
In earlier times before embalming became popular, fragrant flowers were sometimes placed all around the casket to mask the unpleasant odor of decay. Today, flowers are cherished more for their attractive colors and meaningful symbolism, although the perfume of certain plants can evoke lasting memories for bereaved family members. Different flowers express different feelings and emotions, and funeral flowers are no different. For this reason, florists frequently create personalized wreaths and bouquets in various shapes and designs according to the family's preferences for the funeral service. Some of the most popular memorial floral arrangements include lilies, roses, orchids, and carnations, but there are plenty more from which to choose.






Funeral flowers are a symbol of sympathy, love, and respect. However, some families choose to omit flowers from the funeral or memorial service by asking guests to make a charitable donation "in lieu of flowers." As a funeral guest, you may want to express your support with a sympathy bouquet, but it is considered proper funeral etiquette to respect the wishes of the family in their time of grief.
Popular Funeral Plants
There are many reasons that a plant may be given as an expression of sympathy rather than cut flowers. In addition to lasting longer than flowers, a funeral plant can represent a living tribute to a departed loved one adding beauty to one's home for years to come.
Peace Lily Plant
A peace lily plant is one of the most popular delivered sympathy plants. It considered to be a healing plant, conveying calm, peace and hope.
Azalea Sympathy Plant
Azaleas are a symbol of health, self-care and love for family. Azaleas can be displayed in a pot at the end of life celebration and then planted outside after the services.
Palm Plant
Representing strength and protection, the palm plant is sent to represent support to a loved one during their time of grief. Most palms are very low maintenance and long lasting so they make excellent gifts.
Popular Funeral Flowers
The flowers listed below are among the most popular flowers for a funeral. Each one will convey something different to the recipient.
Lilies
Lilies are a symbol of purity and innocence and are very popular in traditional funeral services. Many families choose white lilies to convey a sense of peace and rebirth of the soul.
Roses
The rose is another popular feature in sympathy arrangements and funeral wreaths. Roses come in a variety of colors, each of which represents a specific meaning. For example, pink roses convey grace, yellow roses signify loyalty and deep friendship, and a classic red rose is a symbol of both grief and love.
Orchids
Orchids stand out for their elegance and unique style. Orchids are prized sympathy flowers because they last for a long time and are thus considered a symbol of everlasting love.
Carnations
Carnations are a perfect addition to funeral arrangements due to their array of colors and sweet fragrance. Florists use them to create wreaths and casket sprays, and the colors can symbolize either remembrance with pink, innocence with white, or love with red.
Forget-Me-Nots
As their name implies, "true blue" forget-me-not flowers symbolize faithfulness, remembrance, and everlasting love.
Bird of Paradise
The Bird of Paradise is a colorful bloom that always stands out in a funeral bouquet. The flower, which resembles a bird in flight, symbolizes freedom and can bring feelings of optimism and joy during a funeral.
When it comes time to choose flowers for a memorial or discuss other aspects of funeral planning, there can be a lot to consider. Funeralocity helps you make informed choices and compare funeral home costs. Visit our FAQ page to learn more about how we help you compare local funeral homes and services.
Back to Knowledge Center
Find and compare funeral and
cremation providers.
Use zip code for more precise search results